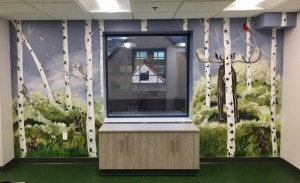 Professional Affiliations
NEMAA member (Northeast Minneapolis Arts Association)
* ASID- Allied Member (American Society of Interior Designers)
*TWSA   Transparent Watercolor Society of America
*Grand Marais Art Colony
# The Pump House Regional Arts Center  La Crosse, WI
Work can also be been seen at:
The Hickory  Chair Showroom  International Market Square, Minneapolis, MN
Work was included in the following:
2012 ASID Showcase House- Master Bedroom Maureen Haggerty, mint, inc Interior Design
2012 Dream Home in the Parade of Homes- Bedroom Maureen Haggerty mint, inc Interior Design
2013 ASID Showcase House- Fables Bedroom Brooke Voss Interior Design and Martina Willegalle Interior Design
2013 Luxury Home Tour- Great Room and Bath Andrea Surtel and Kelsey Hanson of Martha O'Hara Interior Design
2013 Storefront display- The Design Studio @ 50th and France, Edina, MN
2016 ASID Showcase House-  Bedroom/ Bath- Jennifer Thompson Horstman
2017  People Serving People- Mural in a classroom for young children
2018 Balsam Art Gallery invitational exhibit   (Aug-Oct)
2018-2019 Ambiente Gallerie Minneapolis  (15 Dec.- 15 Feb)
Community Service
I volunteer through ASID to further advance the organization and the communities in which we live.

To me it seems imperative that we give back.   Most of us have been blessed in many ways.   Whether with time, talent and/or money, giving back does more for us than it does for those on the other end of the gift.   To that end, B.J. Folkerts Art & Design is committed to supporting charitable organizations locally, regionally and beyond.
Among the organizations we support are:

'Horses for Joy'
This is a LaCrosse, WI based not-for-for profit organization.
Horses for Joy, Inc. sponsors individual participation in equine facilitated programs that promote personal growth and wellness through the horse/human relationship. For additional information please contact: indigoreins@gmail.com
 People Serving People  Minneapolis
People Serving People is the largest and most comprehensive, family-focused homeless shelter in Minneapolis.  They help homeless children and their families manage crisis situations and build a strong foundation for their long-term success.
Clearwater Farm
LaCrosse, WI  This 100% volunteer-operated non-profit organization demonstrates, advocates, and teaches the sustainable use of natural and agricultural resources.
The farm includes youth education gardens, community gardening, family activities, animal care teams, and more.